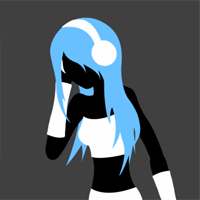 Melody's Escape is now available
Steam
!
Frequently Asked or Just Plain Made-Up Questions
Q: Can I use my own music in this game?
A: Yes!
Q: How is it different that all the others "play-on-your-own-music" games?
A: First of all, there is a very powerful tempo detection algorithm in this game which makes the music experience sync extremely well (if applicable).
Secondly, there is a heavy focus on voices and held notes, giving you the opportunity to litteraly slide on them while they play.
And last but not least, the music experience is synched 1:1 to the gameplay, which means that your actions and are directly in synch with the music, allowing you to feel the music instead of performing a secondary unrelated gameplay task.
Q: Is it optimized for a specific music genre?
A: There is a very advanced tempo detection algorithm (with support ranging from 60 to 180BPM) which makes most kind of electronic music sync perfectly on beat. The tempo detection is up to par with most DJ software solutions and took many months to create.
Q: So it is only good with electro music?
A: Not only, almost all genres sync very well! While electro music works flawlessly thanks to the tempo detection, I have created the game with my own music tastes in mind, and those are very eclectic ;) For instance I have a soft spot for accoustic songs with female vocalists, hence the heavy focus on voices in Melody's Escape.
There is a secondary detection algorithm for non "tempo stable" songs, which means that you can play almost any music in the game, even very calm songs, and still have a music-synchronized experience.
Q: How does the music affect the game?
A: The intensity of the music at any given moment determines the movement speed of Melody, from walking during calm parts to all-out flying when the music explodes. The obstacles on the track are synchronized with the music. And specific care has been taken to make each "mode" fun, which means that calm parts of a song are not boring to play, and will keep you on your toes :)
Q: What are the supported file formats?
A: MP3, OGG, FLAC, WMA, WAV. On PC, iTunes format (AAC codec) requires Windows 7 or superior. Additional codecs plugins can be installed by the player.
Q: What platforms does the game support?
A: PC only at first, then Mac and Linux afterwards.
Q: Any plans for future platforms?
A: While I do already have my audio detection algorithm working on iOS using the iPod music selection, mobile development will depend on the success of the game on the PC platform. There is no plan for consoles support at the moment.